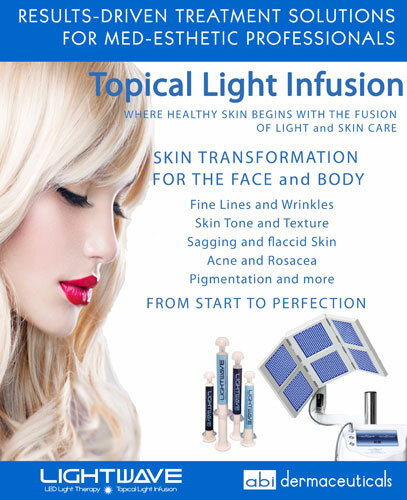 Topical Light Infusion is the only light based facial infusion technology available that safely and effectively addresses a variety of cosmetic concerns and is far superior to other infusion technologies currently available. Unlike traditional LED light therapy, TLI's active facial infusion systems are intended to combine colors of light and photo energy with topicals to directly affect the tissue being treated. TLI uses specific doses of visible light energy to propel photon energy into various layers of the skin.
TLi Treatments :
COLLAGEN RENEWAL BOOSTING MASK
This treatment rejuvenates and tightens the skin, boosts collagen production, and fights free radicals. This concentrated mask contains a multi-mineral chrono-energizing complex, known as Sepitonic®M3. Sepitonic®M3 re-energizes the skin by enhancing its oxygenation and stimulating cell respiration and the synthesis of the cell's energy mediators (ATP, DNA, Proteins). Within 24 hours, these newly revitalized skin cells begin the process of producing collagen, glycoproteins, and elastic fibers in the skin's extra cellular matrix.
BRIGHTENING TREATMENT
This treatment utilizes kojic acid and vitamin C to improve discoloration caused by sun damage, chemical build-up, chemical reactions from chemical peels, and excessive use of skin damaging products. This Topical Light Infusion (TLi ) process helps to normalize the melanin within the skin.
RETINOL REVITALIZING TREATMENT
This invigorating retinol mask revitalized dull, aged skin by infusing the power of Vitamin A into the skin layers below. This mask is extremely effective at increasing cell turnover and improving cellular communication from the inside out. It assists in collagen production, and reduces fine lines and wrinkles to create a vibrantly youthful complexion.
WRINKLE REPAIR TREATMENT
Vitamin C and natural lightening and collagen stimulating actives have long been known to positively affect the skin. This gentle yet effective serum uses the proven understanding of natural ingredients to stimulate and promote the production of collagen while defending against free radical damage. It inhibits melanin production and aids in the repair of sun damaged and environmentally stressed skin.
RESVERATROL TREATMENT
This resveratrol-rich brightening booster complex is excellent at increasing radiancy and reducing skin roughness and fine lines. This potent antioxidant formulation combines the benefits of encapsulated resveratrol with scientifically proven peptides and niacinamide. This combination of key ingredients has several benefits including reducing redness, lightening, and brightening, improving the skin barrier, boosting hydration, boosting the synthesis of Collagen, and protecting against free radicals.
PEPTIDE PRO NUTRIENT BOOSTING MASK
This powerful peptide nutrient mask boosts the skin's hydration levels and delivers potent antioxidants and anti-inflammatory ingredients to instantly revive aged and photo damaged skin. This results in a healthy glowing complexion. It also contains Aldenine®, a remarkable anti-aging peptide designed to restore elasticity and firmness.
BLEMISH CONTROL TREATMENT
This treatment is ideal for congested and oily skin. The concentrated gel based mask contains several Power Pure ingredients designed to reduce inflammation, detoxify the skin tissue and reduce unsightly blemishes resulting in an overall improved look and feel of the skin.
EGF FIRMING COMPLEX BOOSTER
EGF Firming Complex Booster is ideal for stimulating collagen and cellular repair. This 2-step process combines a thick serum mask with a preformed gel mask. This skin repairing formulation combines the benefits of anti-aging peptides with an epidermal growth factor and hyaluronic acid. This blend of powerful ingredients has several benefits including reducing redness and pore size, boosting hydration, boosting the synthesis of Collagen I, III and IV and protecting against glycation.
PRO POWER C BOOSTER
Improve your natural glow with the Pro Power C Topical Light Infusion Treatment. This concentrated 12-minute Red Light Infusion treatment utilizes powerful, proven ingredients to target fine lines, wrinkles, pigmentation and uneven skin tone and texture. Highly concentrated Power Pure™ Vitamin C Spheres are blended with Hyaluronic Acid, Sepitonic™ M3 Active Mineral Complex and Glutathione for a dose of triple-action, age fighting super-stars.
BODY FIRMING TREATMENT
This results oriented 20 minute treatment allows the delivery of potent ingredients which have been shown to increase circulation, lipolytic activity, firmness, elasticity and skin density resulting in the appearance of smoother, firmer skin. This is ideal for combining with body microneedling.
POST RECOVERY TREATMENT
This treatment is intended to boost skin remodeling using a potent vitamin C serum and GHK copper peptide cream. This serum and cream based combination will help soften, smooth, fade and reduce the appearance of scars including burn scars, surgery scars, acne scars and plastic surgery scars. Please note this setting is usually most effective with new scar.
Prices
Topical Light Infusion Express $165
Tight on time? We'll cleanse and prep your skin, apply your topical infusion serums/masks, and get you under the powerful light for your selected TLi protocol, nourish your skin with more serums and moisturizers before you head back out into the world – all in under an hour!
Body Firming Microneedling x TLi Treatment $350
A results-oriented treatment to increase elasticity to flaccid / crepey skin areas (think neck, tummy, decollete) or to treat areas with stretch marks. We will stimulate the skin with microneedling and red LED light, then finish with a TLi Body Firming treatment.
Trillion Dollar Facial **$299** (Reg $365)
Take advantage of our summer special pricing on this amazing trifecta facial treatment: dermaplaning, microneedling, and a custom selected Topical Light Infusion treatment – all in one go!