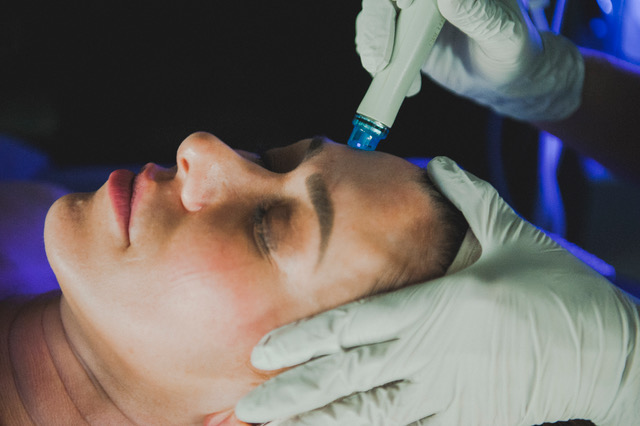 HydraFacial MD® takes non-invasive skin rejuvenation to another level – even two levels above IPL with no downtime involved. It is the most advanced non-laser skin resurfacing treatment that delivers clearer, more beautiful skin. It's also the only medical-grade hydradermabrasion procedure that combines cleansing, exfoliation, extractions, hydration, and antioxidant protection simultaneously.
As a result, hyperpigmentation is reduced and the appearance of fine lines, wrinkles, congested and enlarged pores also improve. In clinical studies performed by leading doctors, HydraFacial MD® was shown to provide better results than other skin rejuvenation devices.  Most importantly, it's the only machine using the 4-in-1 Vortex Technology™.  Due to this patented technology, the system removes oil, dirt, debris, and dead skin giving you that glow you've been longing for. Active serums are infused into the skin which delays the need for invasive procedures.
Hydrafacial is also great for prepping the skin for future treatments like peels, microneedling, etc. This treatment is great for all skin types. Please inform the esthetician if you have a shellfish allergy due to the ingredients in the Activ-4 Step so that we can modify your treatment.  All Hydrafacial treatments include 15-20 minutes of light therapy dependent on your skin type.  
***Please make sure to refrain from using any retinol products for 5 days prior and 5 days after to receiving any Hydrafacial treatment.
If you wish to add manual extractions to your treatment, please allow an extra 10 minutes and schedule it as an add-on when booking.  
Introductory Hydrafacial Boost
Schedule your first Hydrafacial treatment at Spa La La to take advantage of this amazing introductory offer. 55 minutes | $199 (savings of $26)

Enjoy the essentials of this treatment with an added super serum booster. Give the skin a little boost with some Britenol, reduce the appearance of fine lines with an Age-Refining Boost, or minimize the appearance of dark spots with a Radiance Boost.  60 minutes – $225 | series of 3 – $600 (savings of $75)
Hydrafacial Max w/Lymphatic
This ultimate experience combines the benefits of our Boost treatment with an added mask and 15 minutes of lymphatic drainage. Lymphatic lifts and contours the face for an instant, more sculpted look. This is incredible at reducing puffiness and redness, increases circulation, and works to detoxify and optimize skin health. 75 minutes – $275 | series of 3 – $750 (savings of $75)
Hydrafacial Max w/BioRepeel Add-On
This ultimate experience is the Hydrafacial Max with a 35% TCA BioRepeel add-on.  This will replace Glysal Peel.  This combines the benefits of our Boost treatment with an added mask &15 minutes of lymphatic drainage massage. Results are amazing.   90 minutes – $375 | series of 3 – $925 (savings of $100)
THE 5 STEPS INVOLVED IN THE HYDRAFACIAL TREATMENT
1: VORTEX-EXFOLIATION™ (Active-4™ serum removes dead skin cells, revealing healthier skin)
2: VORTEX-Peel™ (GlySal™, a mixture of glycolic and salicylic acids, delivers the benefits of a peel without post-peel scaling)
3: VORTEX-EXTRACTION™ (Patented, automated suction cleans out pores with exclusive Beta-HD™ serum)
4: VORTEX-BOOST™ (Targeted, proprietary skin solutions address specific skin concerns
5: AFTERCARE: This will be customized according to your skin type.